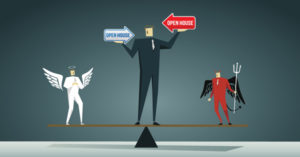 It's our business to know a thing or two about the key characteristics that make up a good real estate agent. The kind of agent that instills trust and helps you maximize the amount of money you make during your sale – or, ensures you end up buying the house of your dreams. So don't settle on just any agent. Use Feello and match up with an agent that "gets" you and your needs.
Remember, a good agent doesn't just average 4.5 stars on Yelp. He or she will have a successful track record in your market, she'll take the time to learn what's important to you, and will be committed to being a great partner throughout the whole process.
Our tried and tested list:
Good agents…
Will act as your partner – and instill a level of trust that will help alleviate unwanted stress
Will quickly learn what is most important to you
Will do everything they can to save you money and time
Will ensure you are as prepared as you need to be to buy and/or sell your home
Will stand alongside you from beginning to end, from the first meeting through closing
The band ones…
Will never "get you" – and won't even try
Will always say "Yes" – because "No" would force them to come up with alternatives
Will keep their best interests in mind – starting with making as much $ off you as possible
Will skip the marketing and rely on their peers to do all the heavy – and necessary – lifting
Will make it their mission to get you to act FAST! – when fast may not be in your best interest
If you haven't already, download Feello today and match up with the right agent. Now is not the time to settle.